Birthday Parties
Gym Zone Hobsonville is the best place to celebrate your child's gymnastics Birthday party!
With the help of your gymnastics party coach, your guests can enjoy showing off their skills or learning some new tricks.
We have options for self-catered and fully catered parties, an exclusive party room and lots of gymnastics fun! Give yourself a stress-free party and let us sort out the catering, entertainment and cleaning for you.
A non-refundable deposit of $150 is required to secure your birthday party booking. Party balance payment is due by wednesday prior party date. Guest numbers must be confirmed at least 7 days prior to your event and no changes regarding guest numbers, catering or session times can be made in the week leading up to your event. All participants must abide by our Gym Zone Safety Rules and Guidelines and Terms and Conditions of use
Please note we are closed for parties from 23rd December 2022, until 21st January 2023
Times:
Saturday Sunday
10:00 AM-11:45 AM (school holidays only) 10:00 AM-11:45 AM
11:30 AM-1:15 PM (school holidays only) 11:30 AM-1:15 PM
1:00 PM-2:45 PM 1:00 PM-2:45 PM
2:30 PM-4:15 PM 2:30 PM-4:15 PM
4:00 PM-5:45 PM 4:00 PM-5:45 PM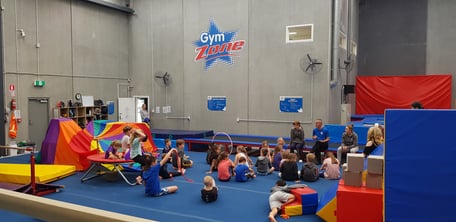 How the parties work:
Arrive 15 mins before your session to check in and receive your wristbands.
Your gymnastics party coach will take participants in to the gym for a safety briefing.
You will have 20 mins of instructed gymnastics skills and games followed by 40 mins of Free-Play.
Parents could be taken up to the party room, if available, up to 30 minutes before the kids are finished in the gym with the FREE- PLAY session. You can use this time to decorate, prepare your food or to relax and let us do the catering for you! Party participants will join them for 45 mins in the party room.
The party room must be cleared of all guests and belongings at the end of the 45 min. Simply clear food from used dishes and put them in the box provided, we will sort out the cleaning for you while you enjoy the rest of your day.
All parties include:
1-hour Free-Play session for 10 children (including the birthday child)
45 minutes in the party room AFTER the Free-Play session.
Present for the birthday child
Gym Zone invitations on request if required.
A birthday party coach to welcome you, take care of your shoes, presents and catering if any. They will also guide children to the party room after their Free-Play session.
Access to the party room up to 30 minutes before the end of the Free-Play session.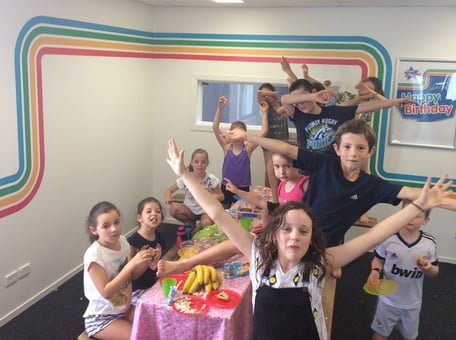 Party package 1- Bring your own food
$335 for up to 10 children ($20 per extra child)
Self-catering option We provide the entertainment you provide the food.
Party package 2- Snack pack included
$385 for up to 10 children ($28 per extra child)
Kettle Korn Popcorn
Ginger kid biscuit
Charlies Juice pouch
Party package 3- Party Feast
$450 for up to 10 children ($33 per extra child)
Kettle Korn Popcorn
Ginger kid biscuit
Charlies Juice pouch
1 x serving of Vegetable sticks with hummus
3x hot savouries with tomato sauce
Hot savoury choices include mini hot dogs, mixed savouries or vegetarian quiches- Let us know your preference! (Min 10 per flavour, savouries will be served on platters)
Party Extras:
The following platters can be added to party packages 2 and 3 for a extra cost
Mixed Savouries $14.00
Vegetable stick platter $12.00
Vegetarian quiches $14.00
Mini hot dogs $14.00
Fruit salad $20.00
We are not always able to cater for guests with allergies and we cannot guarantee that our food is free of traces of nuts, eggs, dairy, gluten or any other similar ingredients. Please contact us if you have guests who have special dietary requirements.
Important notes
Once you confirm your number of birthday party guests with us, this is the amount of Free-Play session wristbands you will receive. Parents and caregivers are not included in the Free-Play session for ages 5 and above. For under 5's, a maximum of one adult is included per pre-schooler to supervise during the Free-Play session. Any extra children or adults that wish to attend the Free-Play session on the day will be charged a $20 general admission fee.

For parties larger than our maximum, please contact us at admin@gymkids.co.nz or 09 416 0003