These programmes require invitation by our senior coaches and are from the age of 5+. We select gymnasts who show talent and potential which ties in with a can-do, determined attitude and both parents and athletes can also commit to the multiple hours of training. Competitve Gymnastics is a fantastic way to build strength, confidance and resilience in your child. If you and your child are interested in exploring our competitive options please check with your coach.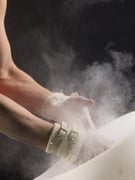 We have both Junior and Senior Squads in both Hobsonville and Freemans Bay. Members are invited to join the squads based on their results achieved in our band testing and meeting our senior coaches requirements in our regular classes. Junior and senior squads will be expected to train 2-3 times per week to make meaningful progress. When you join the squads, you will be given access to our online training tools so that you can choose to do a conditioning workout per week from home.
Junior Squad 5-8yrs (choose 1-2 sessions)
Hobsonville = Monday, Thursday and Saturday
Senior Squad 9-14yrs (Choose 1-2 sessions)
Hobsonville = Monday, Wednesday and Thursday
Freemans Bay = Monday and Thursday
Please book from our COMPETITIVE timetable note the regular gymnastics timetable.
If you choose more then 1 class per week a discount does apply.
To access the discount please contact admin@gymkids.co.nz and advise which extra classes you want your child to attend to receive the correct discount code.
The squads are designed for our students to be able to compete at Recreational competitions during the year. These give students a chance to be part of a fun yet challenging environment, to compete with other gymnasts and come home with a coloured ribbon reflecting on their achievements from the day.
Ribbon Colour - Apparatus Score
Gold = 14.00 and above
Red = 12.50 - 13.99
Blue = 11.00 - 12.49
Green = <11.00

A gymnasts level at a recreational competition is determined by her age:
Level 00: Girls 5-6 Years
Level 0: Girls 7 Years
Level 1: Girls 8-9 Years
Level 2: Girls 10-11 Years
Level 3: Girls 12 Years & Over and/or Open "
Advanced gymnasts are given the opportunity to skip an age group at her coaches' discretion.
Competing gymnasts in the Recreational division must compete in the blue Gym Kids long sleeve leotards which can be purchased from the website. "
Competition dates are to be confirmed and all information will be sent via email weeks in advance prior to the event.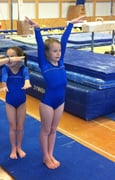 Competition Leotards
All competing gymnasts are all are required to wear the competition uniform. These are available for purchase on our website or form the Hobsonville reception.
Entry Fees
An entry fee must be paid for the gymnast to compete at each competition. There are 4-5 competitions per year and they are optional. This will be paid on behalf of the competitor, ranging at different prices depending on the hosting club. This can range from $45-55. Entry fee is non-refundable and must be paid at least a week prior to the competition date.

Competition Day
Please note that all competing gymnasts must have all fees paid up to date and in full for them to enter competitions throughout the year. Please arrive at the hosting club venue at least 15 minutes prior to their scheduled warm up time. This gives time for the coach to allocate all gymnasts and to double check all gymnasts are in correct attire, and looking uniform with their hair. This also avoids a rush and gives them time to settle their nerves as well as become familiar with the venue and see how things run.
Please make sure your competing child is wearing their leotard and club hoodie or tracksuit is prefered over the top. They may this for marshalling during competition in the colder season and as well as prize giving presentation where all gymnasts are required to participate in. You will find that most hosting clubs may not offer EFTPOS or any other method of payment besides cash, where you will need to pay cash for a door charge entry into the venue as well as options for snacks at the canteen which is usually cash only as well. Juniors will not need to bring a bag with them onto the floor. The coach will bring a bag where they can put their belongings in.
You will need:
A water bottle which is named
Small healthy snack
Inhaler (if required)
Hand guards and wrist bands if worn
Intermediate STEP gymnasts can bring a bag on the floor with them which should be of an
appropriate size and named, and of a black colour.
DO's and DON'TS
Do support your child as well as their team mates! However please be aware there are other competing athletes that will be on other apparatuses and may find it is distracting if loud cheering occurs. Good sportsmanships reflects positively on everyone which is what we are encouraging! If your child is needing to use the bathroom make sure they are aware that they need to
approach their coach in letting them know. The coach needs to check if he/she has already competed, as they cannot leave if they are about to compete for the judges. The coach must also ask permission from the head judge to leave the comp floor to avoid distractions.