Free-Play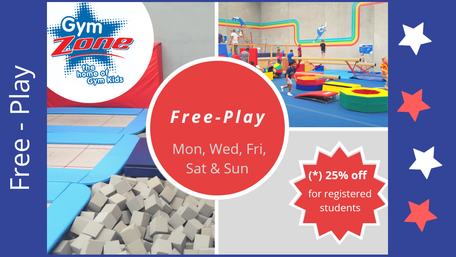 Term 4 - 2021 OPEN Friday 3rd December
HOBSONVILLE only
Monday, Wednesday and Friday 10.30 -11.20am and 11.40am - 12.30pm
PLEASE NOTE THERE IS A 20MIN GAP BETWEEN SESSIONS SO THAT WE CAN SANATIZE THE GEAR AND TRANSITION PEOPLE IN AND OUT WHILE MAINTAINING SOCIAL DISTANCING.
Please select the FREE-PLAY MIDWEEK product for the discounted Homeschool price for the morning sessions. See info in the document below.
Parkour - Evenings
On Monday and Wednesday 6.30- 7.30pm there would be obsticles courses set up during
Free-Plays sessions for those who wants more challenges and want to get those Ninja Warrior tricks out there.
During the school holidays we are running sessions only on SATURDAY & SUNDAY.
WEEKENDS
Saturdays 1.00 - 2.00pm, 2.30 - 3.30pm, 4-5pm (during school holidays from 10am as per our Sunday timetable)
Sundays 10.00-11.00am , 11.30-12.30, 1.00 - 2.00pm, 2.30 - 3.30pm, 4-5pm
Click here if you wish to book now.
What is Free-Play?
This is a new way to enjoy our HOBSONVILLE facilities on a casual basis. Instructors are there to supervise your children while they discover all our great Gymnastics equipment and apperatus. We have both mid week and weekend sessions available.
All our current registered students get a 25% discount on 1hr Free-Play sessions. Come along and have fun with friends or practice some skills you want to perfect.
How It Works
It is very straight forward. All bookings are taken online, you choose a date, available time slot and book and pay. It's easy!
Arrive 15 minutes prior to your session to allow time for processing and our mandatory safety briefing.
Children under 5 must be accompanied by an adult in the gym. One supervising adult is included with each under 5 ticket purchase.
No spectators in the gym are allowed. If you wish to be in the GYM area you will need to purchase a valid ticket.
Admission for spectators is free to the café and general areas. A caregiver must remain onsite for children under 8yrs.
Shoes, socks and drink bottles in the cubby holes.
All participants must agree and abide by our Terms and Conditions and Safety Guidelines at all times.
No one is allowed to participate in Free Play without a correct session wristband.
Any participants with Intellectual or physical disabilities please contact us prior to booking for additional information.
Bookings Click here if you wish to book now.
Current Registered Students Discount Codes
Use code FP25 for 1hr Free-Play . (*)
Use code FP25PS for 1 Adult plus 1 Preschooler please . (*)
(*) Special offer Terms and Conditions
This offer is for our 1hr Free-Play sessions. Can't be combined with another discount offer. Mid week Pre-School no free coffee included when using the discount code. Does not include multi booking tickets.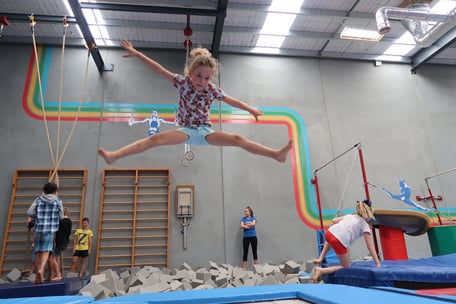 Admission
Under 5yrs
1-hour – Adult & Under 5 Gym Free Play $17 (*)
(1 supervising caregiver aged 18+ and 1 child under 5)
1 Hour - Adult and 2x Under 5yr Gym Free-Play $28.00 (*)
(1 supervising caregiver aged 18+ and 2 children under 5)
Group 5 adults and 5 under 5yrs Gym Free - Play $78 (*)
(5 supervising caregivers aged 18+ and 5 children under 5)
(*) Caregivers with a valid Ticket get a Free Regular Coffee when coming with an under 5yr to a session in the morning Monday - Friday. (only during school term)
Age 5 and Over, Adults
1-hour – Gym Free Play $17
Group of 5 - Gym Free Play $80 (only $16 each)
Group of 10 + Gym Free Play $148 (only $14.8 each)
Family pass
1-hour – Family Pass Gym Free Play $60
(2 adults 2 children or 1 adult 3children)
Times
During School Term
Monday 10.30-11.30am & 11.30am - 12.30pm / 6.30-7.30pm
Wednesday 10.30-11.30am & 11.30am - 12.30pm / 6.30-7.30pm
Friday 10.30-11.30am & 11.30am - 12.30pm
Saturday 1.00-2.00pm / 2.30-3.30pm / 4.00-5.00pm
Sunday 10-11am / 11.30-12.30pm/ 1.00-2.00pm / 2.30-3.30pm / 4.00-5.00pm
School Holidays
Please email us to confirm Times since these change from Term to term
Note: All under 5yr must be with an adult /caregiver with a valid ticket.
We are closed on public holidays.
Important Information
We want all participants to get the most of their Free-Play time so to get things running smoothly please agree to our Terms and Conditions. Check them out by CLICKING HERE
Safety is important to us! We need all our participants to follow our Safety Rules and Guidelines so everyone can safely enjoy their Free-Play session. Read them HERE to give yourself and our other participants a great Free-Play experience.
Bookings Click here if you wish to book now.